Can't find the words to get your message across? Our professional content writers can help.
Keyword driven content and copy writing services
Get professionally written copy that will generate more leads into sales
Having a beautifully designed advertisement or website won't do much to sell your product or service without some compelling copy to accompany it. Fortunately, the professional content writers at Bracha Designs can help with that. Our experienced writers will take the time to learn about your brand, research your service or product, and understand your target demographic to write some truly compelling copy that will help boost sales. We write copy that is not only engaging, but also optimized with the specific keywords you're trying to target for search engine optimization. 
While no one understands your product or service quite like you, our experts at Bracha Designs will take the time to fully understand what it is you're offering  so we can write content that will be as good as if we were trying to sell it on our own. If you're not a professional writer or just can't quite find the words to sell your service, let the expert content writers at Bracha Designs help.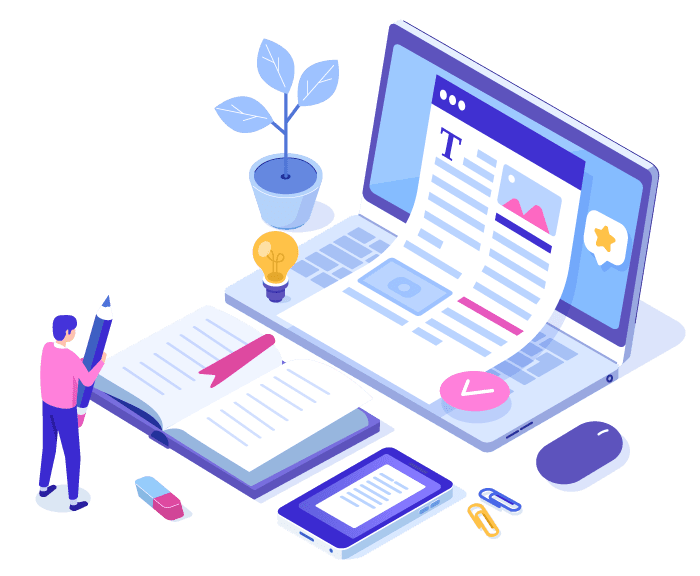 We make our writing services as easy as possible!
1 - Submit Your Notes
We'll ask you to send us some bullet pointed notes about the product or service you're trying to write content for.
2 - Research
We'll research the topic along with the best specific keywords to use in your article to get the highest rate of conversions.
3 - Receive Your Content
In about 3-4 business days (sometimes longer depending on the document length), we'll deliver your written content to you for review.
Frequently Asked Translation Questions
How much do writing services cost?
Writing services will depend on the length of the document to be written. Contact us for a quote.
Can I request changes once I receive my files?
Yes, if you've discovered anything that to standard, we'll be happy to make any necessary changes.
Are you writing services done with AI or some kind of program?
No, all content and copy writing is done by professionals who have proven track records for producing effective content.
What deliverables should I expect?
Typically a Word document. If we are designing something for you as well to accompany the content, we'll insert the approved content into the design and send you the appropriate design files.