No matter what language your target audience may speak, we'll help you get your message across
We offer translation services for over 150 languages
Get your document professionally translated by one of our native translators
If you have a message you'd like to get across in one or many different languages, Bracha Designs can help. You may find that your demographic you're targeting for a specific campaign speaks a language other than language. Offer them the convenience of marketing piece presented to them in their own native language. We offer translation services in over 150 different languages. We have professional translators who are native to the countries of their corresponding languages so you can be sure your document will be translated professionally and grammatically correct, every single time. Stop creating embarrassing ads translated with Google Translate and use our professional translating services instead. 
Offering professional translation services for over 150 languages
Can we translate your document in the language you need? 
And so many more languages. Contact us to see if we can translate your document in the language you need.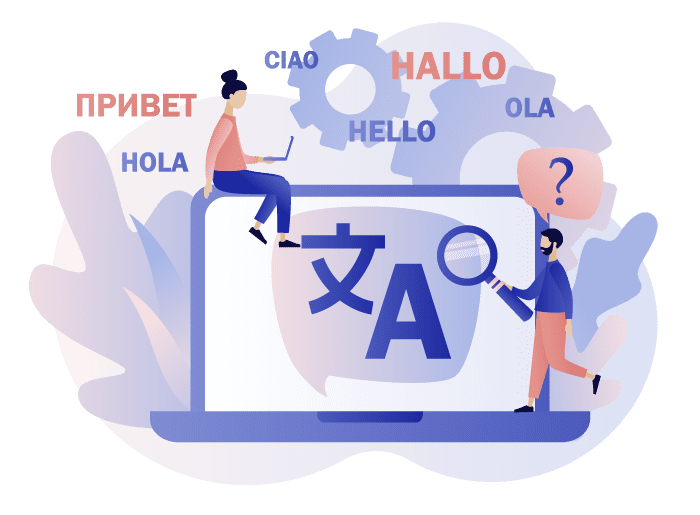 We make our Translating Services as easy as possible!
1 - Submit Your Documents
Submit your documents that you need translated to us. Word documents, Editable PDFs or original art files work best.
2 - Select Your Languages
Tell us which languages you need your document translated so we can assign the best translator for the job and properly quote you.
3 - Receive Your Translated Document
In about 3-4 business days (sometimes longer depending on the document length), we'll deliver your translated documents.
Frequently Asked Translation Questions
How much do translation services cost?
Translation services will depend on the length of the document to translate and the language needed. Contact us for a quote.
Can I request changes once I receive my files?
Yes, if you've discovered anything that isn't translated to standard, we'll be happy to have the translator review it again.
How do you offer translating services for so many languages?
We have a network of translators who are native speakers of the languages they translate. Based on what you need, we'll connect you with the right translator.
Are you translation services done with AI or some kind of program?
No, all translations are done by professional translators and writers who are native to the country of the language they are translating. 
What deliverables should I expect?
Typically a Word document or PDF.