Get your printed message to your exact target audience with Direct Mail Marketing
We can design, print, and mail out your marketing piece for you.
We'll take care of the hard work so you can focus on your clients.
Direct Mailing Service Provider Long Island is a type of marketing that entails sending a physical piece of promotional material to a home or business via the United States Postal Service. "Direct Mailing" services are intended for businesses or individuals who want to target specific addresses rather than blanketing the neighborhood. We'll do the rest if you tell us who to mail to.
Most people find it difficult to complete a successful targeted mailing campaign, which is why Bracha Designs makes it as easy as possible.  We have developed an innovative validation tool to make the process of uploading your mailing list simple and efficient. Our validation tool will validate and flag any invalid or duplicated addresses in your uploaded list of entries. This gives you the opportunity to eliminate any invalid or duplicated addresses that would otherwise cost you money.
If you have a mailing list of your clients you've been collecting or have purchased a targeted list of potential customers, Direct Mail Marketing may be a valuable way to get your brand's message to the exact people you want.
What marketing materials can take advantage of Direct Mailing?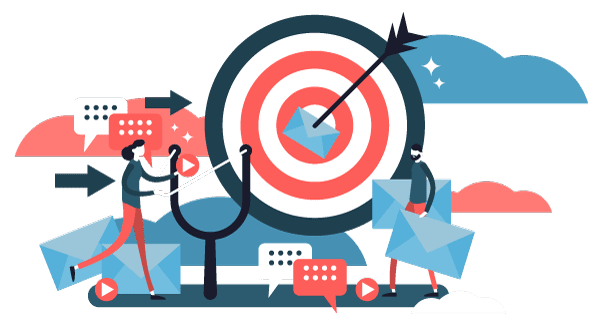 We make Direct Mailing as easy as possible.
1 - Submit Your Artwork
Submit your artwork in proper print format. If you need help setting up your files or need a design, we can help with that as well.
2 - Upload Your Mailing List
Upload your mailing list and our systems will analyze it for invalid or duplicate entries. 
3 - Print and Mail
Once your artwork and mailing list have been approved, we'll print your files and send them to USPS for mailing. That's it!
Frequently Asked Direct Mail Questions
Where do I get mailing list from?
You'd either supply it or you can purchase specific lists from various companies online. We do not provide any mailing lists.
How much does Direct Mailing cost?
We charge for the printing and preparation of the direct mailing. In addition we pay postage fees to USPS on your behalf. Fees will depend on what you're printing, the quantity, and what postage class you choose.
Contact us
for a quote.
How long does Direct Mailing take?
Printing takes about 3-4 business days for most items.
Mailing Service will add 1-3 additional days to the turnaround time for applying postage, labeling and sorting. Orders over 25k may add up to 7 days to turnaround time.
When the order is given to USPS, they assume responsibility for delivery to mailing list. First Class Mail takes about 3 business days from when USPS receives the mailers to when they are mailed, while Standard Postage takes about 1-2 weeks on average. 
Do you design for Direct Mailing?
Yes, we can design your direct mailing for an additional cost. Design charges start at $75 and will depend on the specifics of the job.
In what format do I set up my mailing list?
We require a very specific format of your mailing list for our system to properly read it. You can download a template to follow here.
Is there anyway to track my Mailers?
Once the order is given to USPS, they assume responsibility for delivery to mailing list.
We can track that the mailers have been received to certain relay points, but not to a specific address.
Where are you able to mail to?
We can mail to anywhere in the United States.
Can I send you my mailers for you to mail?
No, we only mail mailers that we print ourselves.
What size mailers can you mail?
Booklets from 5.5″ x 8.5″ up to 8.5″ x 11″
Flyers and Brochures

 

from 3.667″ x 8.5″ up to 17″ x 22″
Letterheads

 

from 8.5″ x 11″ up to 11″ x 17″
Postcards from 3.5 x 8.5 " up to 6.5″ x 12″
Rack Cards from 3.5 x 8.5 up to 4″ x 9″
What's the minimum and maximum amount of mailers?
Do you print the exact amount of mailers needed for my mailing list?
We will print the closest possible quantity that is available for your mailing list. For example, if you mailing list consists of 4,780 contacts, we will print 5000 pieces. You can choose to have the remaining pieces sent to you or discarded.