A well designed logo and brand can be one of your company's greatest assets
Distinguish yourself from the competition
The cornerstone for any successful business is a properly built brand along with a memorable logo
Most people don't really know just how important your company's logo and branding really are. Many people simply think all this entails is a graphic symbol next to your company name. This couldn't be further from the truth. Instead a logo is just one part of your company's brand. Your brand is the image, idea, or message you want people to think of when they think of your business. It invokes emotion in people and affects them at a pyschological level. Just think of your favorite brands. You know what they stand for. You feel something when you think about their products or services. And you can picture their logo in your head.
Your logo is a big part of building a successful brand. In many cases your logo will not only be a first impression of your brand on prospective clients, but on your company as a whole. Therefore, a logo can be one of those most difficult things to design. It has to not only represent your brand and company message, it has to be unique, clever, timeless, and memorable – all while being able to be legible in different colors and sizes.
Don't make the mistake of not thinking your logo and branding is important. You'll want a well planned, well designed logo and branding kit so all your ads, marketing materials, website and more have one cohesive look. Don't overlook such a key aspect of your business. Hire the professionals at Bracha Designs to develop your logo and branding. We have years of experience in all industries and we're confident we can design a logo and branding that will accurately represent the message behind your company.
What do you get with your logo design?
5-7 Concepts
After getting a proper understanding of your company, we'll typically prepare 5-7 design concepts that we believe accurately represent your company.
Unlimited Revisions
Once a concept is chosen, we'll work closely with you to finetune and polish up your logo – things like colors and typefaces will be scrutinized.
Final Working Files
Once the final logo is approved we'll provide you will all the working files you'll need to use your new logo for print and web. If you've chosen to have a branding kit developed, we'll provide that as well.
Facts About Logo Design and Branding
of consumers will avoid a brand with a logo they find odd, ugly, or unappealing.
of consumers believe that brand logos are a work of art.
of people recognize a brand by its logo.
of consumers are more likely to trust and buy from a brand that they know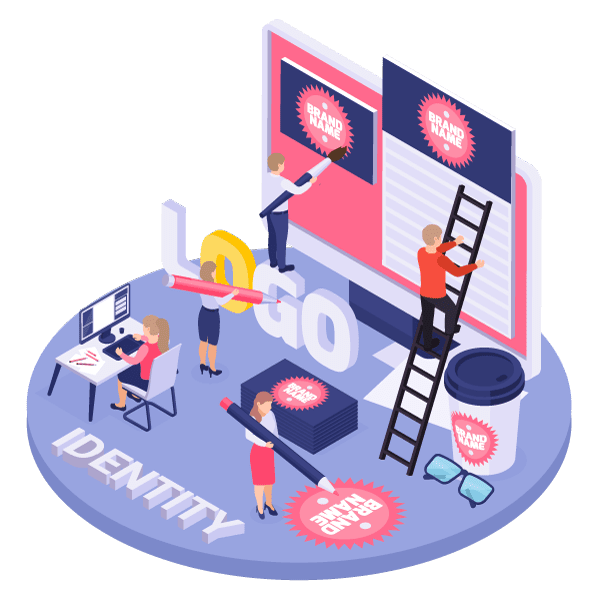 Frequently Asked Logo Design and Branding Questions
What is the difference between a logo and a brand?
A logo is a graphic symbol that easily identifies a company, a commercial product, or any public or private entity. It is one method of differentiating a brand in a competitive world full of graphic elements that compete for our attention every day. A logo is typically made up of typographies, graphics/symbols, and colors. It is a graphic element that is part of a brand's visual identity.
A brand is the idea or image that people have in mind when they think about a company's specific products, services, and activities, both practically and emotionally. When exposed to all touchpoints between a person and a specific brand, this combination of physical and emotional cues is triggered. These include, among other things, the brand name, logo, products, visual identity, staff, and advertising.
What makes a good logo?
A well designed logo is one that will not only look good, be unique and memorable and have a timeless design, it will also accurately envoke the feelings of the message behind the company. It also needs to be scalable and look good and be legible across different mediums, big and small. Bringing all these ideas together in one small graphic is no easy feat.
How much is a logo?
Prices can range anywhere from several hundreds to several thousands of dollars depending on complexity and the number of concepts requested. Contact us for a quote.
How many concepts do I get with my logo design?
Typically 5-7 unless more are requested.
What happens if I don't like any of the logo concepts?
This rarely happens, but in the event that it does, we'll happily provide you with a few more ideas.
How many revisions do I get?
We want you to be happy with your final logo. After all, it will be representing your company. Therefore we provide an unlimited amount of revisions (within reason) to your chosen concept.
What is the logo design process like?
We'll ask you about your company – what it does, what it represents, and more. From there, we'll ask you to provide some other ideas or logos you like as starting basis so we have an idea of what you're looking for. From there we'll do research and design some concepts. Usually within 3-5 business days, we'll send you over some concepts and review them with you. We'll adust and tweak based on your feedback until you're happy. Once approved, we'll send you final files. 
What final files should I expect for my logo?
You will receive vector files (AI, EPS) as well as files for print (PDF) and web (JPG, PNG).
What is a Branding Guide?
A branding guide tells you how you can and can't use your logo and branding. This will help ensure all design aspects of your company, from your marketing materials to website look cohesive and works together.
I've seen online logo makers. Why not just use that?
These online resources are stock images that have been overused. Not only are the lifeless and cookie-cutter, they do nothing to represent your brand's message. It's advisable you always hire a professional for such a crucial aspect of your business.
I don't like any of the logo concepts. Do I still have to pay?
Yes, you are still required to pay the full agreed amount as we have spent the time, research and effort to provide you the designs. If you do not like the designs provided, we will be happy to provide you more options at no extra charge and work with you until you are 100% satisified.
We've designed hundreds of logos for all kinds of companies. Take a look at some of our best designs.