Spot Gloss Cards
Welcome to another segment of Product Spotlight, where we discuss all kinds of cool products, designs, and print options we offer at Bracha Designs. Last time we spoke about basic matte and uv options for printing business cards. In this entry, we will be talking about Spot gloss printing, which is a great and inexpensive way to really make not only business cards, but postcards, silk cards and more, really shine.
Spot gloss is a process that sounds pretty much like what it is: a uv coating is applied to certain areas of a print to give the affected area a glossy shine. It's like coating your card with uv gloss, only targeting certain areas of the card. This can yield some really cool and creative cards. Spot gloss can be applied to logos, company names, and contact information to really make them pop, or to background patterns to add some texture to the card. Spot gloss can play an artistic element – such as spot glossing unique patterns, custom shapes, or additional highlights.
If done right, spot gloss can really create a beautiful unique card, and what's great is that it's a print option that doesn't cost all that much more this a standard matte of uv coating. Here are a few really nice samples of spot gloss cards: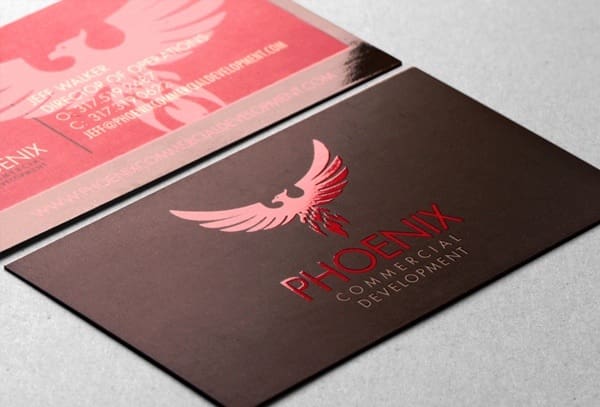 Here you can see how spot glossing the logo really brings attention to it and makes it pop.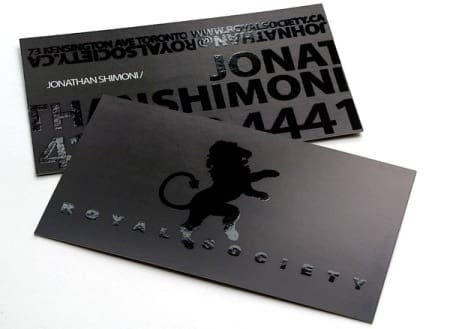 Here is one where the logo has been spot glossed on one side and the contact information on the other side. Note how sleek and luxurious the black with spot gloss on black looks.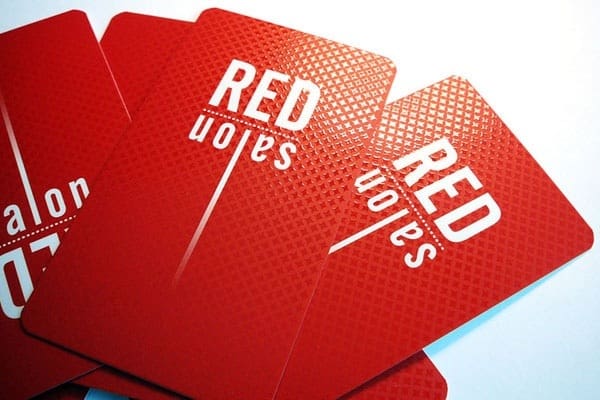 In this sample spot gloss is applied to the background pattern to give the card a nice textured look.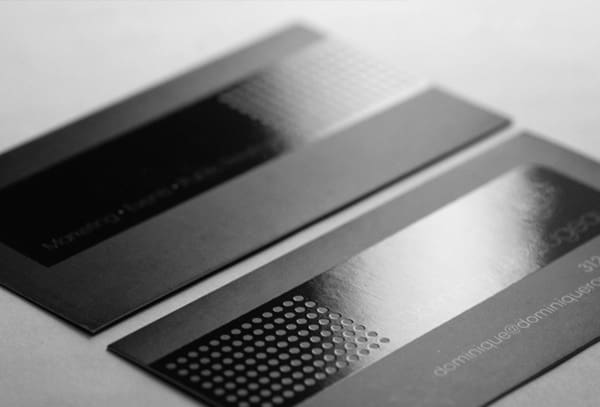 Here, the spot gloss has actually become part of the design element of the card. Again, the black on black makes the card very sleek and stylish.
This card shows how little more than just a spot glossed logo can make a really cool looking card. Again, black on black – it's a popular option.
The process of prepping your digital file is quite simple. Once you choose the areas that you want to spot gloss, duplicate your file. This will be your spot file. Next, select only the areas you want spot glossed, and turn them 100% black (CMYK values 0,0,0,100). This extra spot file tells the printer exactly where the gloss should be applied on the card, no matter how big or small that area may be.
Hopefully this entry has begun to open you up to exploring different print options for your business cards and other print materials besides just a plain matte or uv coating. Have the images above got you thinking about how you can spot gloss your cards? If your interested in learning more about the spot gloss procedure, would like some ideas of how spot gloss can work on your design, need help setting up a file for spot gloss, or are ready to order your very own set of spot gloss cards, contact us. Your beautiful new spot glossed cards are just a click away!
Join us next time when we will be discussing die-cut options!